No, I didn't have a seizure while I was typing that headline, nor did the 'x' key get stuck. This amazing rose is from the Basque region of Spain, but few people know where Getariako Txakolina is, and even fewer know how to pronounce it – I have to admit that even I was a little shaky on where this region is and what grapes are used. So for everyone's sake let's start with a quick geography and phonetic refresher.
First, the pronunciation. Say 'chalk-o-lee' – the 'tx' gives a 'ch' sound. Perfect.
As mentioned, we're in Basque country, in northern Spain – specifically west of San Sebastian and east of Bilbao, along the coast of the Bay of Biscay. There's a lot of damn good food around here, so the wine had better be good as well. And it is. Getariako Txakolina is a rather small DO along the coast, further west there is Bizkaiko Txakolina, and inland the newer DO Arabako Txakolina; all make the same general style of wine. The actual wine is called 'txakoli' (alternately txakolina, or chacoli), and it's a blend of the predominant red and white grapes in this area – hondarrabi beltza ('black') and hondarrabi zuri ('white'). I have only seen a handful of different Txakolis (white and rose) in the US; I suspect the folks in this region smartly keep the vast majority of it for themselves.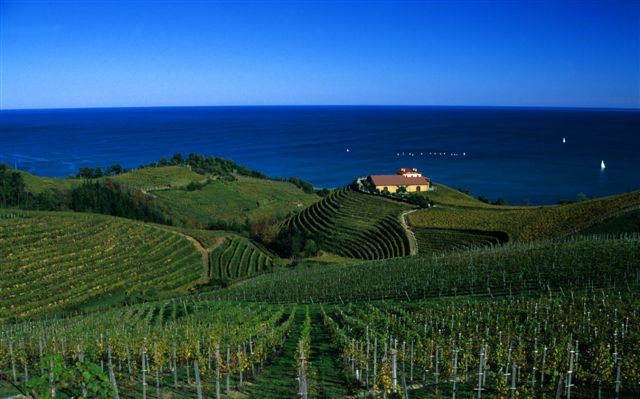 The winery in question here is called 'Txomin Etxaniz', and they make one of my favorite roses (and an amazing white, too.) Everything about this wine is beautiful – the sleek slender bottle, the brilliant light fuschia color, the little bit of petillant sparkle on the tongue, even the 10.5% ABV which makes it a good day drinker if you're inclined to such things. While Spanish wines are often a great value – maybe the most consistent at the <$10 price point – they are also often all muscle and no elegance. The Txomin is a value at more than twice that price point, and the complete opposite style – a mind-bender, a wine of paradox: powerful yet ethereal, dry yet full of ripe watermelon & raspberry flavors, still yet slightly sparkling, low acid to begin yet builds to a crescendo with its estimable length.
Txomin Etxaniz Getaria Rose 2014

Getariako Txakolina DO, Spain
$25
Importer: Jorge Ordóñez
Grape: 100% Hondarrabi Beltza
The Verdict: Outstanding While at the higher end of the price spectrum, this wine is unique, complex and worth every penny. Although you may be able to find it in restaurants throughout the summer, it will sell out quickly in retail, so stock up if you like it as much as I do.